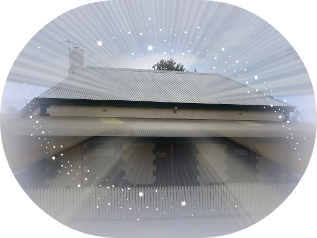 House Blessing
House Blessings (dowsing or clearings) have been used over the centuries to help bring a sense of peace and light to space that has become hardened with negative and heavy energy.
There are many things that can create and cause energy in the places we live or spend time in to become stagnant and unhealthy. Anything from the electrical equipment, the lighting we use through to the words we use. Arguments, fights, death and things that make us sad all carry with them heavy emotional energy which is absorbed, or even will linger in the space where it is expressed or dumped.
As this type of energy is allowed to build up it can begin to have an affect on the people and animals that frequent the space. People may begin to feel uncomfortable in the room, restless or even not able to sleep or relax. Some may even experience, nausea, headache and a constant sense of tension or anxiety.
Clearing the space by having a House Blessing done may help to lift the heaviness and allow the space to become once again filled with vibrant, welcoming and healthy energy.
A House Blessing may also be beneficial for you if you are moving into a new home or space (office). House Blessings have also helped people that are trying to sell their homes or attract new tenants.
Sharon has years of experience with clearing the space of rooms and properties. By using a combination of tools and methods Sharon considers performing a House Blessing as an honor and performs her clearings with great respect and privacy.
With your House Blessing you will also receive a Certification of Blessing, guidance for continuing the healthy energy, and a special cleansing gift package for you to use.
TESTIMONIALS
"Recently Sharon has done house blessings for myself and my family, the energy shift was amazing with such a calming effect. I can't speak highly enough of Sharon and her amazing gift and kindness ." Naomi
-----------------------------------------------------------------------
"I could feel a sense of negativity within our family home, we would hear footsteps around the home at different times and we experienced a run of bad luck for some months. My youngest daughter would frequently wake in the middle of the night talking and playing and at times would wake me to explain that she was trying to sleep "but he wouldn't let her". It was suggested by a family member that I smudge my home, however after doing so I felt more uneasy and felt a stronger sense of unwelcome energy and this would keep me awake most nights.
I spoke to Sharon about this and she suggested a cleansing/ house blessing and agreed to come to our home. Sharon explained that the negative energies may have been present from the negative influences left behind by visitors who visited the home. Sharon stated that she could perform a house blessing to help eliminate this. Once Sharon completed her house blessing, Sharon informed me of some ongoing methods to avoid this from happening again.
Almost instantly our home felt at peace, our bad luck settled. Both my youngest daughter and I could sleep a whole night through and the our home felt peaceful. I had noticed a sense of peace and laughter in my home to rise over the six months of following Sharon's advice. I strongly recommend getting a house blessing as it has made our home a place that we enjoy spending time together. " Vicki
If you would like to find out more about having a House Blessing done for you please contact Hibiscus Dreaming directly by using the Contact Us Form.